It seems that there are 15 played on the Field!
Ariel Gonzalez
Recently the Major League Baseball (MLB) baseball Player of Los Angeles Angels of Anaheim, Mr. Albert Pujols stated that '… it seems that when I bat there are 15 players on the field …'. This is because his batting average has been below its average despite being in good physical condition and be doing good contacts.

The reason why Mr. Pujols is noticing this is that Data Mining teams of the other teams are applying the results of Data Analysis (Data Mining) on ​​the behavior of their hits. The Data Mining team of opposing teams already has a profile address where usually makes contact, depending on the pitcher, the types of pitches, stadium, time, and other variables.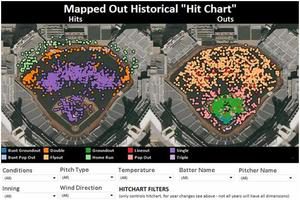 As can be seen in these representations, on the one hand are the locations where the balls fall when batted Hits and other when batted Outs. All this filtered by the different variables indicated.
So Albert will have to be more skilled when bat to break these patterns.